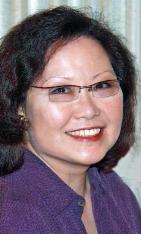 Maria
Tseng
helps clients build and implement marketing strategies and programs. She authors, curates, aggregates, sources and edits web content. She builds and manages websites, blogs, social media and moderates online communities.

Maria's early career as the product manager of a computer operating system and her graduate level work in computer science gave her a broad understanding of information technology. She knows the value chain from chips to end-user applications.

Maria worked with corporate vice presidents to align business goals then with engineers to transition more than 100 business processes and functions to become online capabilities. She defined business requirements for user interfaces, partner portals, tools for CRM, SaaS and e-commerce. She was a resource for Internet technology and tools.

While at Cisco Systems, Maria built a website, content and e-newsletters that delivered more than 200 sales best practices and sales tools, all derived from strategic 'wins.' She also developed customer cases and testimonials. She assisted several groups in building reference account programs. Her work helped to drive major initiatives including consumer video, IPTV and

TelePresence

. Earlier, Maria led teams to negotiate license rights for new technology that were key to the formation of the

HyperTransport consortium

. She managed strategic alliances with partners including IBM, Sun Microsystems, technology startups and universities.

She was the business development director for semi-custom and ASIC semiconductor manufacturers. She represented those companies at the Semiconductor Industry Association.

Maria gained P&L experience as the marketing officer of Echo Canyon Software. She participated in that startup from its concept through to its acquisition. She brought to market products and services including a visual programming environment for Windows application developers.

Maria is passionate about entrepreneurship. She produces thought leadership events for startup clients and for organizations including the

VLAB

, the Silicon Valley chapter of the MIT/Stanford Enterprise Forum.

Maria holds an MBA and did graduate work in computer science.
Email Maria
or phone her at

. . . . . . . . . . . . . . . . . . . . . . . . . . . . . . . . . . . . .
Read Maria's web log about marketing high technology: Maria Expounds
She occasionally posts comments to her Facebook Fan Page

Resources


30 Mistakes that Startups Should Avoid
Best Practices to Select Consultants
The Value of Licensing Your Intellectual Assets
RevGen Helps to Define, Manage and Launch Your Products
How Suitors Select Targets for Investment or M&A